Key aromatic substances in particular wines, such as Muscats, Gewürztraminer, Riesling and Torrontés. Trevor Grace, 2015.
The constituents responsible for the characteristic floral and fragrant Muscat aroma in grapes and wine are known as terpenes.  These molecules are present in very small concentrations, yet they have a considerable impact on the organoleptic properties of grapes and wines.  Some Muscat cultivars include Muscat of Alexandria, Muscat de Frontignan, and Muscat Hamburg.  Other well-known terpenic varieties include Riesling, Gewürztraminer, and Torrontés.  These grapes produce some of the most popular and well known white wines in the world, undoubtedly because of their distinguished and recognizable aromas.
The classification of grape varieties can be divided into Muscats with free volatile terpene concentrations as high as 6mg/L, semi-Muscat or non-Muscat aromatic varieties with concentrations of 1-4mg/L, and neutral varieties that aren't dependent on terpenes for aroma <1mg/L.
Terpenes are a large class of organic compounds produced by plants, and they are the main components of essential oils.  Terpenes are isoprenoids and they are derived from a 5-carbon unit with the formula C5H8.  They exist as multiples of this unit with the most predominant in grapes and wine being monoterpenes (C10H16).  Over 50 terpenic compounds have been identified in grapes and wine.
The most pronounced terpenes in Muscat grapes and related cultivars include linalool, geraniol, and nerol (Figure 1).  Classic aroma descriptors for these molecules include floral, rose, citrus, coriander, and spicy.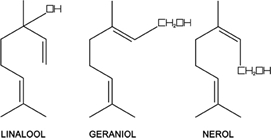 Figure 1 The structure of terpenes typically found in Muscat grapes and other non-Muscat aromatic varieties.  These molecules have floral and fragrant sensory attributes.
Terpenes originate in the exocarp (skin) of grapes.  To maximize terpenes in the vineyard, practices might include a well-conceived trellis system, vigor control, shoot trimming, and leaf thinning to increase light penetration to the fruiting zone.  Adequate sunlight exposure has been shown to increase monoterpenes in Riesling grapes.  Moreover, extended maceration of Gewürztraminer has led to higher concentrations of terpenes when compared to free-run juice.
Terpenes exist in grapes and wines as either glycosidically bound potentially volatile terpenes (PVT), or unbound free volatile terpenes (FVT).  PVTs are two to eight times more common than free form volatiles.  These bound molecules don't make a contribution to the aroma until they are hydrolyzed which occurs in the presence of acids or enzymes (natural or supplemented).  Recently, certain non-Saccharomyces strains have been investigated for their exceptional hydrolytic capability in cleaving terpenes from sugars in Muscat grapes.
References
1. Dmitriadis, E. et al. 1984. A Rapid Analytical Technique for Estimation of Free and Potentially Volatile Monoterpene Flavorants of Grapes. Am. J. Enol. Vitic. 35:2:66-71.
2. López, S. et al. 2014. Characterisation of Hanseniaspora Isolates with Potential Aroma-enhancing Properties in Muscat Wines. S. Afr. J. Enol. Vitic. 35:2:292-303.
3. Marais, J. 1983. Terpenes in the Aroma of Grapes and Wines: A Review. S. Afr. J. Enol. Vitic. 4:2:49-58.
4. Mateo, J.J. et al. 2000. Monoterpenes in grape juice and wines.  Journal of Chromatography A. 881:557-567.
5. Song, J. et al. 2015. Effect of grape bunch sunlight exposure and UV radiation on phenolics and volatile composition of Vitis vinifera L. cv. Pinot noir wine.  Food Chemistry 173:424–431.